---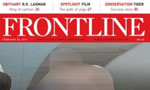 Prime Minister Ranil Wickremesinghe directed the Customs to release the 175 copies of the Frontline Magazine that were taken into custody at the airport earlier this month.
To celebrate its 30th anniversary, the Frontline Magazine carried a series of interviews which had been published during its 30 years of existence. One of these re-published interviews was with former LTTE Leader Vellupullai Prabhakaran first published in 1987.
In a media statement the Prime Minister's office said this particular interview would not pose any threat to national security.
The Customs Department was also advised to contact the Government Information Department in case such a situation arises in the future.
Meanwhile, Customs Spokesman Leslie Gamini said there were 187 copies of this magazine and had arranged to release them but however, no one had come forward to claim them as yet.