---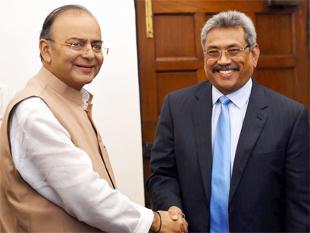 Defence Secretary Gotabaya Rajapaksa on Monday called on Indian Defence Minister Arun Jaitley during which a number of issues came under discussion, Indian media reported.

Gotabaya, who is the secretary of Lankan ministry of defence and urban development met Jaitley in the afternoon at his North Block Office.

Defence secretary R K Mathur was also present. Jaitley later handed over a memento to the visiting dignitary.
Though officials remained tight lipped about what transpired during the meeting, the visit takes place less than 10 days after Mathur visited the island nation.
Mathur had met his Sri Lankan counterpart Gotabaya, who is also President Rajapaksa's younger brother, and discussed ways to strengthen bilateral military ties and reviewed new avenues for cooperation.