---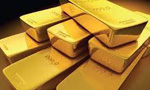 Gold bars weighing 18.5 kg smuggled from Sri Lanka were seized by the Department of Revenue Intelligence (DRI) officials near Thiruthuraipoondi in Tamil Nadu yesterday.
The seizure was made when officials of the special team of DRI intercepted a car based on a tip-off during a vehicle check at Kattimedu on Vedaranyam-Tiruthuraipoondi road in the early hours of the day. Following this, the officials took the car and two occupants to the Office of the Superintendent of Central Excise and Service taxes at Tiruvarur.


The occupants of the car, identified as Thiyagappan (39) of Vedaranyam, and Annadurai (38) of Kodiyakkarai, were arrested under section 135 (Evasion of duty or prohibitions) of Customs Act. The smuggled gold bars and the car used to transport it were seized by DRI officials.
Speaking to reporters, after the day-long enquiry, M M Parthiban, Additional Director General of DRI, Chennai, said of late there have been many instances of gold smuggling from Sri Lanka and special teams have been formed in Thoothukudi and Chennai to curb this. "Vigil is being maintained in the Vedranyam-Tiruthuraipoondi segment as the area is prone for transporting smuggled gold", he added. (Indian Express)