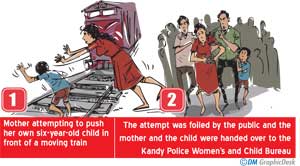 The Kandy Police today took into custody a mother for allegedly attempting to push her own six-year-old child in front of a moving train.
However, the mother had denied the allegation.
The incident took place in the precincts of the Kandy Police, where there is a level crossing on the Lama Gara Mawatha.
The attempt was foiled by the public and the mother and the child were handed over to the Kandy Police Women's and Child Bureau.
The mother, who is from Kaikawela in the Matale Police area, had rented out a room in the vicinity of the Kandy Police and worked as a labourer, the Police said.
She had told the Police that the father of the child was not maintaining her or the child, the Police said.
Inspector (Ms.) Aeyesha Bandara, the OIC of the Women's and Child Bureau, is conducting inquiries and said the mother would be produced before the Kandy Chief Magistrate.
(L.B. Senaratne)