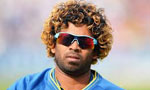 Sri Lanka Cricket (SLC) Executive Committee has approved a suggestion by Chief National Selector Sanath Jayasuriya to get an opinion on Lasith Malinga from world renowned Australian doctor of Sri Lankan origin Professor Siri Kannangara.
Key bowler Malinga who underwent an ankle surgery in September last year was expected to complete his recuperation within 16 weeks and be available for the final two matches of the current seven-match ODI series against New Zealand.
However, Jayasuriya said that Malinga's recovery has been slower than expected and he had to be ruled out of the series against New Zealand.
Yesterday, Jayasuriya told the stunned SLC ex-co member that the star bowler's recovery in time for the World Cup starting on February 14 now looked very slim.
"It is very unlikely that he would be able to play in the World Cup" Jayasuriya said.
Malinga was operated on by famous Australian surgeon Dr. David Young. Jayasuriya told "" that he was keen to have the opinion of Professor Kannangara too after learning about the Sydney based doctor's reputation, and claimed Sri Lanka was getting desperate as they were fast running out of options.
"I was told that he is an ankle specialist. So, let's hope the good doctor would be able to pull off some miracle," said Jayasuriya.
Kannangara is Professor of Medicine at the University of Sydney and has functioned as a Physician and Consultant to the Australian Olympic teams at the Barcelona, Atlanta and Sydney Games, and at World Cup events for football, cricket, net ball and hockey. Prof. Kannangara is also the Director of the New South Wales Institute of Sports Medicine and he served in the FIFA Medical Committee from 1999 to 2006.
Interestingly, before undergoing surgery, Malinga himself suggested that Sri Lanka should groom a successor for him at the World Cup.
"I will do everything I can to be back for the World Cup, but I think it would be good for us to give a young bowler a few opportunities in the meantime, so that we can at least have someone prepared," Malinga had told media in September.
Sri Lanka's fiercest weapon for more than a decade, Malinga will be sorely missed by Sri Lanka on the fast and bouncy tracks in Australia and New Zealand, if he is unable to make it.
Meanwhile, young paceman Dushmantha Chameera has been dispatched to New Zealand to fill Malinga's void.
Sources told "Daily Mirror" that captain Angelo Mathews and other senior players had requested national selectors to send experienced paceman Dilhara Fernando as the replacement, but selectors had turned down the request.