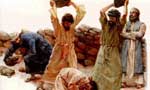 No Sri Lankan is among the fifty people convicted over various offences in Saudi Arabia and whose punishments have been scheduled to be carried out tomorrow, Foreign Employment Minister Thalatha Athukorala said.
A Sri Lankan maid was sentenced to be stoned to death after being found guilty of having a clandestine affair with an unmarried Sri Lankan in Saudi Arabia. The man was ordered 100 lashes.
Meanwhile, speculation is rife that the death sentence meted out to the Sri Lankan woman would be carried out tomorrow.
The minister said according to Sri Lankan Embassy sources in Saudi, the sentences on a group of 50 convicted people from various foreign countries had been scheduled for tomorrow, but that no Sri Lankans were among them.
"We have informed the Sri Lankan Embassy in Saudi Arabia to inform us the date fixed for the carrying out of the sentence on the Sri Lankan. Media reports said the punishment will take place tomorrow. When I asked the officials, they said they were not aware of a Sri Lankan scheduled for punishment," she said.
Speaking about the appeal made by the Sri Lankan government to the Riyad Court requesting to reconsider the sentence given to the woman, the minister said the Riyad Court had not responded to our request yet.
However, she said they could only make a request to be more lenient on the Sri Lankan housemaid.
Meanwhile, Foreign Minister Mangala Samaraweera had an urgent meeting yesterday with the Chargé d' Affaires of the Embassy of Saudi Arabia in Colombo at the Parliament complex to express the government's concern on the reported judgment of the Riyad Court that a Sri Lankan woman was sentenced to be stoned to death on the charge of adultery.
While seeking the indulgence of the Saudi Government, the Minister requested for sympathetic consideration in respect of the accused.
According to Foreign Employment Bureau records, 10 Sri Lankans (8 males and 2 females) had been sentenced to death in several countries including Dubai, Abu Dhabi, Lebanon and Saudi Arabia.
(Piyumi Fonseka)
A group of people had seen protesting in front of the United Nations head office Colombo against the Saudi government over the Sri Lankan woman who was sentenced to be stoned to death.-
Video by Indika Sri Aravinda