---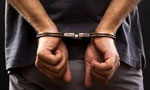 In one of the major detections carried out in the recent past, the Department of Immigration and Emigration arrested 74 Indian workers who were overstaying their visas.
The department's Intelligence and Investigation Monitoring Unit in a massive raid carried out on a BOI- approved company at Matugama on Tuesday night found 74 Indians working there for more than a year without valid visas, sources said.
They had arrived in the country from time to time on 30-day tourist visas but had never returned home and continued working at this factory which was manufacturing plywood sheets.
Special team led by Chief Immigration Officer Amith S Perera and Immigration Officers S M Liyanagama, I P Nanayakkara, G M N D Bandara, K M W Bandara, T W K T Kalyanapriya, P Subhakaran, L A P P Sumanasena and M I Amunudeen conducted the raid under the guidance of Immigration and Emigration Controller General M N Ranasinghe and Controller Visa and Border K G Wijesiri.
(Kurulu Koojana Kariyakarawana)