---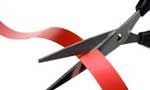 Two women, arrested on charges of obstructing the ceremonial opening of the Kadawatha- Kaduwela expressway on September 17 by forcibly cutting the ribbon tied across, were each released on a cash bail of Rs.2,500 and a Rs.50,000 personal bail with two sureties.
Mahara Chief Magistrate Mahinda Prabhath Ranasinghe also ordered the two suspects Suman Jayasuriya of Mahara and Pushpa Kumari of Ragama to report to the Kadawatha Police on the last Sunday of every month.
Sergeant 9655 G.L.A. Wimalasena of the Kadawatha police told Court that the two women had forcibly cut the ribbon a short while before the official opening. He said the unruly behaviour of the two suspects could have resulted in a breach of the peace.
The Police sought permission to refer the suspects for a psychiatrist examination and that they be remanded till then.
(Ganidu Rochana Samaratunga)