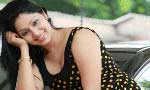 Colombo Chief Magistrate Gihan Pilapitiya yesterday permitted the Criminal Investigation Department (CID) to examine income tax reports of 20 persons including tele drama actress Udayanthi Kulatunga, who had been allegedly paid by drug kingpin Gampola Vidanage Samantha Kumara alias 'Wele Suda.'
The case had been filed by the CID in the Colombo Magistrate's Court under the Money Laundering Act, on the instructions of the IGP. The magistrate made the order following additional reports submitted by the CID in court yesterday.
Through the additional reports, the CID requested court to allow it to look into the income tax reports of the 20 persons including Ms. Kulatunga and her sister, in line with the special investigation carried out against eight suspects including Wele Suda under the Money Laundering Act.
In the additional report, the CID informed the court that they had already reordered statements from 16 others including the wife of Wele Suda in this regard.
The CID has informed that they needed to inquire from the Inland Revenue Department in order to look into the income tax reports of the 20 identified persons and sought an order directing the Department's Commissioner General seeking his approval.
Accordingly, the magistrate ordered the commissioner of the department to release the tax report details of the 20 persons to the CID. The next hearing was fixed for December 11.
(Nirangi Abewickrama)