---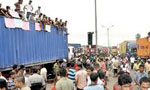 The protest launched by container-lorry drivers and assistants at Ingurukade Junction in Colombo over a dispute with Customs officers was called off a short while ago, Police said.
The entrance to the Colombo Port at Ingurukade Junction was blocked since last evening with the protest causing heavy traffic in the area.
Police said the protesters were demanding that the duration of the driving time in the port area be minimised and to take action against the officials who are responsible for the delay.