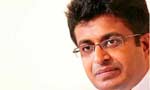 Colombo Chief Magistrate yesterday ordered several media organisations to issue visuals of the video footage of the Press Conference held by UPFA Parliamentarian Udaya Gammanpila on January 11, after a complaint claiming that some comments made by the MP over the release of MP Hirunika Premachandra by the Court, was contempt of court.
The Kaselwatte Police yesterday filing a motion in Court had sought a court order from the Chief Magistrate consequent to a complaint made by Attorney – at- Law Amila Indika, who had alleged that comments made by Mr. Gammanpila during a press conference held on January 11 was contempt court
He said that Gammanpila had stated on January 9, while UNP Parliamentarian Hirunika Premachandra was produced in court, the Wellampitiya Police had diverted from the usual procedure and protocol to release Hirunika on bail.
Keselwatte Police in the motion stated that they had received a complaint that Gammanpila had alleged that the Registrar of the Court had waited in her office till Hirunika was produced in court in order to release her on bail.
In the press conference Gammanpila had also allegedly stated that someone had given a telephone call to the Chief Magistrate to release Hirunika on bail.
He had also alleged that the Chief Magistrate had passed the time in his chamber drinking tea until Hirunika was brought to court to release her on bail.
(Shehan Chamika Silva)