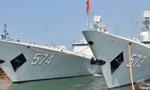 Three Chinese and two Indian naval ships arrived at the Colombo Port yesterday on a goodwill visit, the Navy said.
The Sri Lanka Navy welcomed the three People's Liberation Army-Navy (PLAN) ships, "Liuzhohu", "Sanya" and "Qinghaihu" and two Indian ships "Tharangi" and Sudarshini", in accordance with naval tradition on arrival.
The Commander of the Task Force and Deputy Chief of Staff of the South Sea Fleet PLA Navy, Rear Admiral Yu Manjiang and the ships Commanding Officers are due to pay a courtesy call on the Navy Commander Ravindra Wijegunaratne today at the Navy Headquarters.
As a good will gesture the sailors will take part in a friendly soccer and basketball match with the SLN at Welisara Navy base.
Prior to their departure on January 21, the visiting Chinese ships are due to conduct a Passage Exercise with SLN crafts with the view of sharing professional expertise between the two friendly navies.
Meanwhile, the two Indian Navy Sail Training Ships are at the Colombo Port on a training visit until January 18. A selected group of officers and sailors of the Sri Lanka Navy will be given onboard training by the Indian Navy.
The Indian crew will also participate in a series of training programs arranged by the Sri Lanka Navy as a goodwill gesture.