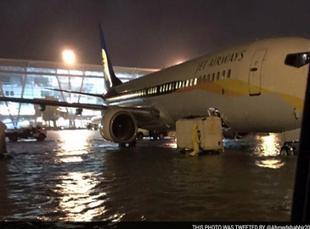 NEW DELHI: With no end to rains in Chennai and water logging on the runway, the Airports Authority of India has suspended operations in the city's airport until noon on Sunday.
The airport is closed since Tuesday night. The authority had initially suspended operations until Thursday morning, but after a review it decided to extend it to Sunday, said a senior AAI official, who did not want to be named.
On Wednesday, the AAI evacuated about 1,500 passengers, who were stuck at the airport. "People could not leave because the road outside the airport is submerged in knee-deep water. We have arranged for six buses to evacuate passengers," said the official.
About 2,000 employees of airlines or the airport were still stranded at the airport on Wednesday evening.
The closure of the airport has led to cancellation of 119 flights - 66 arrivals and 53 departures - till 12.30 PM on Wednesday. About 30 airliners are stuck at the airport since last night.
The airport nearest to Chennai is Tirupati in Andhra Pradesh and it is likely to be used to send relief material and support to the city, a senior civil aviation ministry official said.
Operations at the airport cannot resume unless the water recedes, the official said. "Once the water recedes, the runway will be checked before starting operations."
SpiceJetBSE 7.23 % said it is monitoring the situation. "All our operations at Chennai Airport have been suspended till further instructions as the airport is waterlogged and the tarmac is submerged in one-and-half feet of water," SpiceJet said in a news release, citing Chief Administrative Officer GP Gupta. "Refunds have also been offered to (those booked on) cancelled flights and alternatives have been offered wherever possible."
(economictimes)