---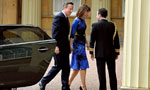 David Cameron has gone to Buckingham Palace
with his wife Samantha this afternoon to meet
the Queen Elizabeth
after securing a stunning election win which he described as the 'sweetest victory of all'.
After an incredible night of political drama, which saw Labour suffer a bloodbath in Scotland and fail to make any gains in England, Ed Miliband quit as leader - accepting 'absolute and total responsibility' for the electoral disaster.
Lib Dem leader Nick Clegg, who narrowly hung on to his seat in Sheffield, also resigned - admitting he had led the party to its worst ever defeat.
It came after Ukip's Nigel Farage threw in the towel within minutes of receiving confirmation that he had lost his bid to enter Parliament. But in a surprise announcement Mr Farage suggested he could return as party leader in the Autumn.
(Daily Mail - UK)