---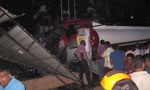 Two young girls who were on their way home from daham pasala died this evening in Anuradhapura when a water bowser crashed into a bus halt.

The accident occurred on Main Street, Anurasdhapura this evening when the bowser driven by an army seviceman lost control and crashed into the bus halt opposite the main post office in Anuradhapura town.

Six more girls who were nearby were also injured and hospitalized. Anuradhapura hospital sources said two of them were in a critical condition.