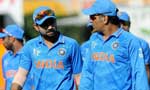 Team India players reportedly have been informed that their wives and girlfriends will not be allowed during their official tour to Sri Lanka.
Indian media reports claimed that the Board of Control for Cricket in India (BCCI) this time prohibited wives and girlfriends from accompanying Indian cricketers.
Team India is scheduled to play three Tests starting in Galle on Aug 12. The team-led by Captain Virat Kohli will reach Colombo on Aug 3.
Indian Express quoted a BCCI official as saying, "Most of the players on tour are just coming off a month-long break where they had enough time to spend with their families. And we've decided that their wives will not be allowed on tour."
According to sources, after Bangladesh tour fiasco, BCCI does not want to take any risk and wants cricketers to concentrate on their matches. However, this would not be the first time when BCCI would ban wives and girlfriends of cricketers to accompany them during official tour.
The Indian Board earlier too had issued notice prohibiting partners on tours. This time board members claimed that previous policy should be implemented again as the players have spent considerable time home.