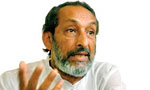 While condemning the alleged attack on Colombo University Don, Dr. Nirmal Ranjith Dewasiri at the venue of the May Day rally of the Consolidated Trade Union Alliance at Kirillapona, the Democratic Left Front (DLF) yesterday said Dr. Devasiri Nirmal Ranjith should have expected such an attack to take place as he was a virulent critic of former President Mahinda Rajapaksa.
General Secretary of the DLF, Parliamentarian Vasudeva Nanayakkara, in a statement said Dr. Nirmal, a well known social activist and a professional, had offered his fullest support to President Maithripala Sirisena during the Presidential poll and he had done so by publicly attacking former President Rajapaksa at every given opportunity.
"He is a well known critic of Rajapaksa and therefore he would have gone to Kirillapona knowing there was a risk of reprisal from Rajapaksa supporters and was consequently attacked by them," Mr. Nanayakkara said.
Mr. Nanayakkara says that Dr. Nirmal had made a statement in which he claimed the current political activities of the faction led by former president Rajapaksa must not be allowed to continue and even called it a dangerous movement with fascist tendencies.
He suggests that Dr. Dewasiri may have gone to there as a spy as another university professor had said that the JVP must come forward to arrest this situation. "Their modus operandi is to disrupt the growing support for the peoples' movement led by Rajapaksa. The Kirullapona incident could be a ruse to create an incident that could put the blame on the Rajapaksa group. However, having said that, we condemn this attack and request the police to apprehend the culprits who attacked Dr. Nirmal Ranjith and take legal action against them," Mr. Nanayakkara said.
(SAJ)