---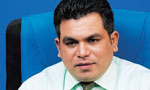 The chairman of the Avant Garde Company, Nissanka Senadipathi has been summoned by PRECIFAC to appear before it on November 20, for questioning and the recording of a statement on the alleged purchase of weapons from the Rakna Lanka Security Company, which the latter had obtained from the Army.
The former Justice Ministry's additional secretary Damayanthi Jayaratne has also been summoned to appear in connection with this on the 19th.
The Avant Garde chairman is also to be questioned about the ship taken into custody with a stock of firearms and ammunition aboard.
(Manopriya Gunasekara)