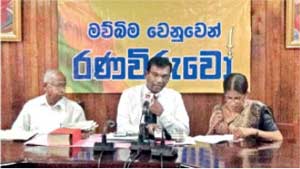 Family members of Army intelligence officers who were arrested and detained under the PTA in connection with the disappearance of journalist Prageeth Ekneligoda today requested the government to release their loved ones similar to the way in which ex-LTTE detainees were released.
They expressed these views at a news conference organsed by the Mawbima Wenuwen Ranawiruwo organisation which was held in Colombo.
Convener of the Organization Major Ajith Prasanna pointed out that these ex-LTTE cadres were not released solely following a judicial process but on the instructions of the President and the Prime Minister.
Therefore, he said army intelligence officers too should be released in a similar way. "Even charge sheets had been filed against these officers. The government should reveal why they were detained under the PTA. What act of terrorism did these officers commit? They had been detained for five months even without charges being brought against them," he said, adding action should have taken against these officers based on the civil law of the country instead.
Five intelligence officers including two colonels had been detained in the last five months under the Prevention of Terrorism Act (PTA) in connection with the Ekneligoda disappearance.
He charged that the government's decision to release ex-LTTE detainees was only to satisfy the Diaspora and the TNA. "The government is releasing former LTTEers who had committed heinous crimes against the citizens of this country while arresting soldiers who had sacrificed their lives to protect the country," he said.
(Darshana Sanjeewa)