---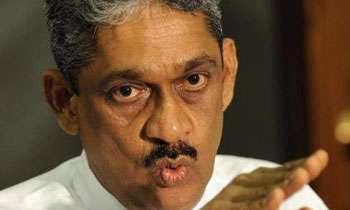 Minister and Field Marshal, Sarath Fonseka yesterday said he would never worship or apologise to any politician.
Speaking to journalists at the end of an inspection tour of the Elephant orphanage in Horowpathana, he said he had only worshiped his parents and the clergy.
"The character called 'Sarath Fonseka' had only worshiped his parents and the clergy in his life. I have never worshiped any politician and never will. When the Rajapaksa regime imprisoned me, I was told that I would be released if I apologoised. When I didn't bow down back then, people must know that I will not worship or apologised to politicians now," he said.
He said making Cabinet decisions public was a responsible duty and should not be an act of toeing any line.
"In the recent past, I made some comments since I was not given the Law and Order Ministry . In some statements, some personnel were politically criticized. The reports that I worshiped and apologised to President Sirisena is a lie. We had a three-minute meeting with the President. If there were any issues, the President said we could discuss and resolve them instead of making them public. Then I replied saying I had to do that because of the atmosphere that revailed before and that we can continue to work together," he said.
Deputy Minister Palitha Thewarapperuma, UNP Horowpathana Main Organiser P. Sahidu, Horowpathana Pradeshiya Sabha Chairman Charuka Udayanga Wijeratna and the Wildlife Director General were present at the event. (Pathum Darshana)