---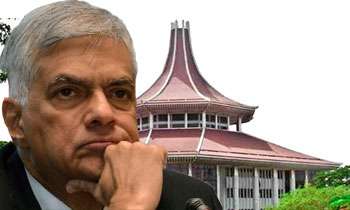 An organization identifying themselves as Women for Justice yesterday filed a petition in the Court of Appeal seeking a Quo Warranto order to unseat former Prime Minister Ranil Wickremesinghe from his parliamentarian seat.
The organization's co-chairman Sharmila Gonawela told the media that Mr. Wickremesinghe's membership in Parliament was illegal.
She claimed that while Mr. Wickremesinghe was functioning as a parliamentarian a company of his was involved in business with State organizations and institutions and as such he could not act as a parliamentarian.
She said therefore she sought the Court to declare that his membership in parliament was null and void. (T.Farook Thajudeen)
Video by Prasanna