---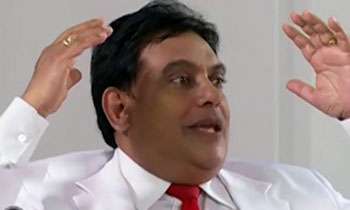 Sri Lankan Ambassador to Qatar A.S.P. Liyanage today said he would lodge a complaint against Deputy Minister Buddhika Pathirana with the Bribery Commission for allegedly aiding corrupt officials.
The Ambassador said at a media briefing that the deputy minister was aiding and abetting the Sri Lankan school in Qatar's former management, which he said was corrupt.
He said he would also file a defamation case against the deputy minister.
Previously, Deputy Minister Pathirana said at a media briefing, that the Ambassador was running the Sri Lankan school in Qatar for money, instead of executing the diplomatic duties.
Ambassador Liyanage in return said Deputy Minister Pathirana had surrounded himself with corrupt officials.
"The previous officials of the Sri Lankan School in Qatar are corrupt and they receive the blessings of Buddhika Pathirana. I will complain to the Bribery Commission against him over this. I have not defrauded anyone as they claim," Liyanage said.
"If I have done any wrongful act, I will leave my post right away. But the deputy minister should resign from his post as he was supporting the corrupt officials," he said.
Meanwhile, he said they were paying a monthly rental of 0.2 million Qatar Riyals to the building complex of the school and added that they had plans to relocate the school at one of their own lands.
"Yes, we receive about 1.1 million Riyals (Rs. 50 million) as monthly income from the school and the school management is saving the money so that they can relocate the school at one of our own lands in Qatar. We have a land," he said.
Attempt to contact Deputy Minister Buddhika Pathirana was failed as he was out of the country.(Darshana Sanjeewa)
Video by Sanjeewa