---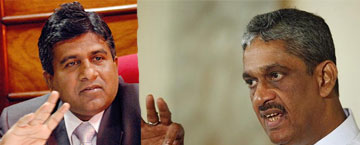 Ministers Wijeyadasa Rajapakshe and Sarath Fonseka had a heated argument at the Cabinet meeting yesterday, when the latter accused of former for violating a collective agreement of the Cabinet of Ministers.
According to sources, the altercation had taken place when Field Marshal Fonseka objected to the action of Mr. Rajapakshe in tendering an apology to a Buddhist monk over a statement made by Field Marshal Fonseka in Parliament recently.
"I made a statement in Parliament where I referred to a statement made by a monk. I referred to this statement as I wanted to disclose who is going behind the Rajapaksas. But one minister of the Cabinet is violating the collective agreement of the Cabinet of Ministers. We want to safeguard the government, but some are still going behind the Rajapaksas," Minister Fonseka had told President Maithripala Sirisena.
Mr. Rajapakshe had immediately responded by saying it was he who had tendered the apology.
"I tendered an apology as the Prime Minister or the President would otherwise have had to do so, on behalf of the government, as it is not possible to run a government without the support of the Buddhist monks," he said.
President Sirisena had then intervened and calmed both ministers down, saying the views of both of them were important. (Ranjan Kasthuri)