---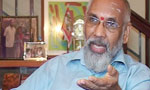 Northern Province Chief Minister C.V. Wigneswaran in response to a statement made by the Jathika Hela Urumaya (JHU) said yesterday he was bent on national reconciliation and was contributing his mite towards promoting it.
Jathika Hela Urumaya (JHU) organizer Nishantha Sri Warnasinghe recently claimed that the Chief Minister's behaviour was a hindrance to national reconciliation and that he was displaying racist and separatist ideologies.
In a letter to Daily Mirror CM said the needs, aspirations and individuality of one's community was neither separatist nor racist and that he was working with the President, Prime Minister and others in the present Government in promoting national reconciliation.
"The Centre must not undermine the Provincial Administration. Such an observation is factual and relates to the preservation of the powers of the periphery," he said.
Rejecting the allegation that Mr. Wigneswaran evaded the Chef Ministers' Conference held in the South, he said health reasons had prevented him from travelling to Hikkaduwa from Jaffna and his inability to do so was conveyed to the organizers.
"Messages in Sinhala and Tamil were sent for inclusion in the Souvenir published. There was no need for me to evade such a meeting since I had already attended a similar meeting in Colombo under the Chairmanship of the President and the Prime Minister," the CM said.
Responding to the allegation that only 20 per cent of the funds allocated for the Northern Provincial Council was spent and the rest had been returned to the Treasury, he said almost 95% of the funds allocated last year were spent.
The Chief Minister said that irresponsible statements by those who hold responsible positions would no doubt be a hindrance to national reconciliation. (Ajith Siriwardana)