---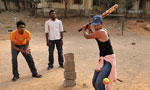 A 15-year-old died today after being beaten by a 14-year-old during a cricket match they were playing in a field in Utumgama, Mathugama, the Police said.
Seven youths aged between 12 and 15 were playing cricket and a brawl between the batsman and the bowler arose following an argument on a wide ball.
The 14-year-old, who assaulted the 15-year-old bowler with a wooden club has been arrested by the Welipenna Police, Welipenna Police Acting OIC IP Karunarathne said.
He said that the 15-year-old was pronounced dead at the Wettewa Hospital soon after he was admitted with injuries to his head and neck.
The body of the victim is at the Wettewa Hospital for the Judicial Medical Inquiry on the cause of death, he said.
Meanwhile, he said it was reported that the youth was suffering with some other diseases previously as well.
The suspect boy is to be produced before Magistrate.