---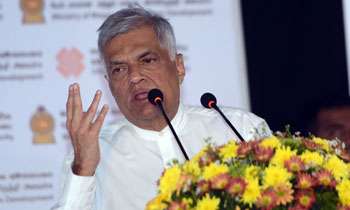 Prime Minister Ranil Wickremesinghe said his government had not even worked out a draft of the new Constitution and as such no one should panic about moves being made to partition the country.
He said this at the opening of a new divisional secretariat building in Balapitiya on Sunday morning.
"Some are shouting about the new constitution. They say we are going to grant federalism and eventually trying to divide the nation. These views are being expressed by those who are politically bankrupt. How can we introduce a new constitution in a situation where we are even unable to prepare a draft," the Premier asked.
He said there were several disagreements among the parties on several aspects though there was a consensus among them when it comes to the nature of the state and the status accorded to Buddhism.
"All the parties have agreed that Buddhism should be given the foremost place in the constitution, There are some minority parties saying the mixed electoral system introduced for elections to local bodies is problematic while the main political parties are in favour of a mixed system for all governing bodies. Under such circumstances, we might have to seek the people's opinion on the electoral system. There are some who are opposed to the abolishing of the executive presidency while some of the political parties are of the view that there would be stability even in a Prime Minister-led system," the Primer said.
He said the country might have to hold an election before enacting a new constitution. (Yohan Perera)