---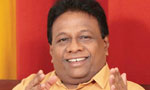 Joint Opposition Chief Organiser and MP Dullas Alahapperuma said today that their May Day rally would be in the best interest of the Sri Lanka Freedom Party (SLFP) since their intention is to protect the SLFP from the United National Party (UNP) led Government.
"People's mandate was given to the SLFP/UPFA to create a separate government and not a coalition with the UNP.
Therefore, the Joint Opposition May Day rally will be in the best interest of the SLFP and not against it. We invite all who are against the UNP, SLFP coalition to attend the Kirulapone rally. We intent no harm to the SLFP, our sole intention is to protect it and its principles," he told a news conference held at the Dr. N. M. Perera Centre.
The MP said the SLFP principles were completely against that of the UNP and focused more on progressive, humanitarian aspects and working people. "Therefore, we don't think holding the May Day rally against the UNP would be considered as an offense by the party," he said.
He said that there were three factions in the SLFP -one in the Joint Opposition and two factions in the Government-and said one SLFP faction in the Government led by former president Chandrika Kumaratunga was hell-bent on breaking away, despite the other SLFP faction's attempt to create unity among the factions. (Lahiru Pothmulla)