---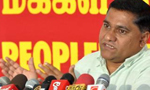 The Janatha Vimukthi Peramuna (JVP) said today it would support the no-confidence motion to be moved against Finance Minister Ravi Karunanayake.
JVP MP Vijitha Herath told a news conference that the motion would be moved by a loyalist of former president Mahinda Rajapaksa. He said the country's debt burden had registered a phenomenal increase over the years and the situation took a turn for the worse because of the graft and nepotism under the previous regime.
He said the present government had also given several promises such as cars for youths having bicycles, but when it came to deeds it was the exact opposite.
"The price of three-wheelers has increased leaps and bounds," Mr. Herath said.
He said the current government had displayed a total incompetence in handling vital issues faced by the country, and it was not only the Finance Minister but the entire government that should be held responsible for this debacle.
"In part this motion attempts to whitewash the Rajapaksa government. We do not agree fully with the contents of this no-confidence motion, but we will vote for it. Our vote is against the entire economic policy of this government," he said.
Video by Buddhi