---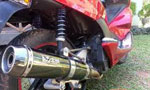 To prevent unregistered motorcycles being used for illegal purposes such as highway robberies, snatching of gold chains, hit and run accidents and in an effort to collect a large amount of unpaid registration fees, the Cabinet on Tuesday approved a grace period of four months for their registration.
Transport and Civil Aviation Minister Nimal Siripala de Silva, who presented the Cabinet memo said there were several unregistered motorcycles being used in rural areas where public transport was not available.
He said they contributed to the rural agricultural economy and self-employment and an opportunity should be afforded to the owners to register their vehicles on an imposition of a surcharge.
The charges will be based on the engine cubic capacity -- Rs. 10,000, for cubic capacity 0 cm to 50 cms, Rs.20,000 for a cubic capacity of 51 cms to 100 cms, Rs.30,000 for a cubic capacity of 101 cms.
The minister said because in most instances legal documents were not available for registering these motor cycles, there was the habit of submitting forged documents for registration purposes. (Sandun A Jayasekera)