---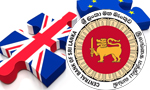 The uncertain global economic situation triggered by Brexit could last for two years, and Sri Lanka could also be affected by this crisis for such a period, a report submitted by the Central Bank to Prime Minister Ranil Wickremesinghe said.
This report said it would take at least two years for the UK to leave the EU as per section 50 of the Lisbon Agreement and, therefore, the global economic crisis that had already begun would last for two years.
The report ,according to sources in the prime minster's office, said that Sri Lanka would definitely be affected -- as 40 percent of Sri Lanka's exports to Europe go to the UK. Sri Lanka would be affected with the fall of the pound sterling, it said.
It had also said that Sri Lanka would not get the expected advantages from the GSP plus facility.
The report had further stated that several stock markets across the world had been adversely affected.
The report had made certain recommendations, but the sources in the prime minister's office did not reveal them.(Yohan Perera)