---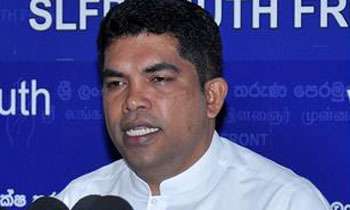 SLFP parliamentarian Shanta Bandara yesterday alleged the UNP 'fraudulently' introduced a clause to the 19th Amendment to the Constitution to limit the term of office of current President Maithripala Sirisena to five years, although he was elected to serve six years.
He said that they realised this only after the Supreme Court ruled that the term of office of the incumbent President ends in five years.
Mr. Bandara, who is also the politburo member of the SLFP and the head of the SLFP youth league, said all eyes were opened when the Supreme Court ruled in mid January, 2018 that President Sirisena's term of office would be five years and not six years as earlier believed. President Sirisena sought the apex court's opinion on the duration of his term of office and added the SLFP was of the view that the five year term applies prospectively and not retrospectively affecting the Presidents elected after the first term of President Sirisena.
Mr. Bandara said the SLFP has every right to oppose the proposed draft of the new Constitution because the party could not trust and accept whatever was contained in the document.
Addressing the media at the party office yesterday, Mr. Bandara said the entire SLFP was shocked and felt cheated after they learned about the Supreme Court verdict.
"President Sirisena was elected to a term of six years on January 8, 2015. The 6.2 million people voted for him with the belief that he would be the Executive President for the next six years under the provisions of the Constitution. But the UNP in the guise of clipping executive powers of the executive has secretly inserted a clause to the 19th Amendment to bring the term of office of President Sirisena to five from six years without our knowledge," he charged.
"At the committee stage in Parliament on the night of April, 28, 2015, the UNP was explaining to all of us the pros and cons of the 19th Amendment to the Constitution. They did not utter a word at any stage about the cutting of the term of office of the President by one year. We feel cheated and hoodwinked and added the UNP had done this deliberately to weaken President Sirisena," Mr. Bandara lamented. (Sandun Jayasekara)