---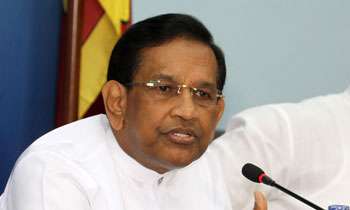 The UNF and several other political parties have decided to form a broad alliance and had decided on a new symbol, UNP MP Rajitha Senaratne said yesterday.
He said this during a media briefing held at the parliamentary complex last afternoon.
"We will come up with a new alliance with a new face and we thank President Maithripala Sirisena for destroying former president Mahinda Rajapaksa's political image and providing us with a suitable environment to form such an alliance," Dr. Senaratne said.
UNP Deputy Leader Sajith Premadsa when asked about the new alliance said he was not involved in the discussions to form a new alliance. " The first priority will be to remove the present government which is ruling the country illegally," Mr. Preamdasa said.
He said UNP Leader Ranil Wickremesinghe should be allowed to form a government after removing the present government and when asked whether Mr. Wickremesinghe had a majority to form a government, the UNP Deputy Leader said his party would show the majority at the right time.
When asked whether the UNP was ready to face a general election he said his party was not ready for a poll under the current political crisis. "What will the MPs who created havoc in the House do if an election is called. They will use this kind of thuggery to win the election," he said.( Yohan Perera and Ajith Siriwardana)
Video by Buddhi