---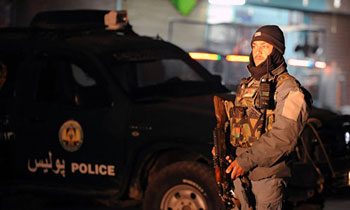 Five officials from the United Arab Emirates (UAE) have been killed in a bomb attack in Kandahar, Afghanistan, officials have confirmed.
They died in blasts at the governor of Kandahar's guesthouse on Tuesday, where several others were also killed. The UAE ambassador was injured.
The UAE said the men had been carrying out "humanitarian, educational and development projects".
Three days of mourning have been declared in the UAE.
UAE President Sheikh Khalifa bin Zayed has ordered that flags across the country should be flown at half-mast in honour of its "martyred" citizens.
Among the projects was signing an agreement with Kardan University, in the capital Kabul, to offer scholarships funded by the UAE.
The Taliban has denied earlier reports that it was behind the deadly bombing, blaming an "internal local rivalry".
The Kandahar blast was one of a string of attacks that hit three Afghan cities on Tuesday, killing some 50 people and wounding 100.
In Kabul, a suicide bomber and a car bomb detonated near the Afghan parliament complex, while in Helmand province a Taliban suicide bomber targeted a guesthouse used by an intelligence official, killing at least seven people. The Taliban admitted both attacks.(BBC)