---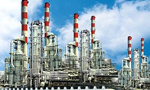 The Petroleum Resources Development Ministry will construct two oil refineries in Trincomalee and Hambantota with the technical and financial commitments from China and India, the Daily Mirror learns.
A reliable Ministry source on condition of anonymity told the Daily Mirror yesterday that the Trincomalee refinery with a capacity of 200,000 barrels per day would be constructed in association with India while Hambantota refinery will be built with china's assistance.
"Minister Chandima Weerakkodi will visit the two countries soon to initiate discussions at which a final decision will be taken on the capacity, the total cost, the financial commitment from each country and the time of commissioning. However, the output of both refineries will be mainly for export," he added.
Meanwhile, the Petroleum Resources Development Ministry is in the process of setting up a training centre at the Sapugaskanda oil refinery for professionals for the petroleum industry in association with the Colombo University.
Sri Lanka will produce technicians and engineers to meet the requirements the oil industry from this training centre. Such positions are in high demand in the international market offering high salaries.
In the wake of Sri Lanka's one and only oil refinery at Sapugaskanda performing below expectations, the Petroleum Resources Development Ministry has decided to award three term contracts to two Singapore suppliers and one Indian supplier for the delivery of Gas Oil, Gasoline and Jet Fuel for a period of eight months from December 2016 to July 2017 at a cost of US$ 257 million (Rs. 38 billion approximately).
The three term contract to supply refined Gas Oil, Gasoline and Jet Fuel during the 8 months duration will be thus awarded to M Petrochina (Singapore) International Pt. Ltd., Singapore, M/s. Reliance Industries limited, India and M/s Petrochina (Singapore) International Ltd., Singapore, respectively as per the terms and conditions stipulated in the approved respective bid documents and recommendation of the SSCAPC (Special Standing Cabinet Appointed Procurement Committee) .
The cabinet gave the nod to a proposal made by Petroleum Resources Development Minister Chandima Weerakkodi in this respect on Tuesday (15) with approved terms and conditions of bid documents along with the recommendations.
Minister Weerakkodi told the cabinet that since the existing term of contracts would end by October, 2016, these three term contracts separately were necessary in order to make every endeavor to procure all petroleum products.
"Products quantities and the product combinations of the above three (03) term contracts are based on the local demand for each product and the storage limitations in the country," Minister Weerakkodi said.
A total of 23 bids had been received for the entire purchase and three (03) bids were eligible for detailed bid evaluation having completed all tender terms and conditions including the product specifications. Among said three (03) responsive bids, the bid of the M/s. Petrochina International (Singapore) Pte. Ltd Singapore was the lowest evaluated substantially responsive bid and also the lowest among all six (06) bids submitted for this procurement, Accordingly, on the evaluation and recommendation of TEC, SSCAPC has recommended to award the particular contract to M/s. Petrochina International (Singapore) Pte. Ltd, Singapore, Minister Weerakkodi said.(By Sandun A Jayasekera)