---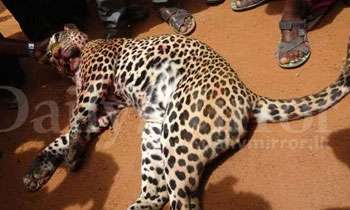 Two suspects were arrested by the Kilinochchi police in connection with the incident where a leopard was brutally killed at Ambalakulam in Kilinochchi on Thursday.
Police said a 42-year old Nadarasa Mohan Raza, a resident of Ambalakulam was arrested last night while a 39-year old Nadaraja Sukumal, a resident of Udaya Nagar was arrested after he surrendered to the Kilinochchi police this morning.
They are to be produced in courts today.
The Kilinochchi Magistrate's Court ordered the police to examine video clips of the incident and arrest those involved in the killing. (DS)