---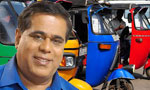 Transport Minister Nimal Siripala de Silva said yesterday that the ministry had decided to limit the importation of three-wheelers in future and to issue licences to drive three-wheelers only to persons above the age of 35 years.
While holding a discussion with several three-wheeler associations at the ministry, the minister said there were about 1.2 million three-wheelers in the country and new rules and regulations would be introduced regarding the transportation of passengers in three-wheelers.
Passenger transportation in three-wheelers was started at the end of the nineteen eighties and there were no laws to regulate the service, he said.
During the meeting the minister informed the three-wheeler associations of the new regulations -- and the associations had shared their ideas with him.
Nine main points had been discussed, and several proposals had been presented by the three-wheeler associations, including the raising of the speed limit from 40Km/hr to 50 Km/hr. The minister had promised to provide solutions after discussion with the police and other relevant institutions. (Chaturanga Pradeep)