---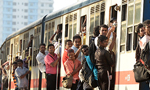 The Jaffna bound night mail train was delayed by 96 minutes last Wednesday (April 13) as the railway guard on duty had reported late for duty after performing the rituals at the auspicious time, Railways Department sources said.
The train which was scheduled to leave Colombo Fort at 9.30 pm had left at 11.06 .
A senior railway official said the train had to wait for this particular guard as the department was short of staff.
He said only 30% of the special train services scheduled for the New Year season could be operated as a large number of guards were on leave.
He said at times porters had to be deployed on guard duty due to the acute shortage of guards, in order to operate the trains. (Vinitha M. Gamage)