---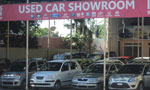 Dubai Court of First Instance had sentenced three Sri Lankan fugitives for selling 11 cars worth Dirham 2.8 million without the knowledge of their employer.
All three were sentenced in absentia to three years in jail each.
The court also ordered the suspects to pay Dirham 150,000 each as a fine. They were ordered to be deported after serving their jail terms.
While the 43-year-old Kazakhstani investor and his partner were not in the country, the three staff members of a second-hand car company had exploited the opportunity and sold eleven cars to two persons after forging documents needed by RTA for ownership transfer, the Emirates 24/7 News reported.

On May 22 last year, the car dealer returned to the county to discover that his auto showroom was emptied out and that the three employees were not there.

Reviewing the CCTV camera footage, he found out that at around 4pm on the day before his return, four men came to the showroom and the three staff members helped them take out the cars. Later in the evening, other people came and took the remaining cars.

"The three took their passports. One claimed that he needed it to renew his lease, the other claimed that he needed it for a surgery for his wife while the third told me that he wants it as he is looking for a job," the employer told the police.

Police found out that the three fled to Sri Lanka on the same flight on May 22.

Checking with RTA, it was found out that one of the staff members filled the forms and signed on and stamped transactions for selling the cars that were listed for exportation by the buyers.