---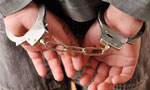 Three Bulgarian tourists who had illegally withdrawn money belonging to other people using forged ATM cards, were taken into custody by the Galle police this afternoon.
The police had launched an investigation after receiving a complaint from the manager of a state bank in the Galle town that a scam to steal money from ATMs was under way. They had tracked down the suspects and arrested them with some difficulty.
A customer had earlier complained that his ATM card had been seized by the machine when he attempted to withdraw money from his account. The manager had stated to police that he examined the CCTV camera to find a foreigner attempting to withdraw money from the ATM.
The bank officials, who were on the lookout, noticed two foreigners attempting to withdraw money while looking at the account number in a notebook which aroused their suspicions. The manager immediately informed the police, but the two men had fled the scene by the time they arrived.
However, the police gave chase and arrested the suspects who were hiding inside the toilets of a temple in the Kaluwella area at the time.
During investigations police recovered a bag containing money stolen from accounts belonging to other people. Police said that following the incident, several other banks in the Galle area had also complained that money being stolen in the same manner by people using their ATMs.
OIC Crime Investigations Unit CI Sujeewa Silva, and SI Palitha Ramasinghe were conducting further investigations on the instructions of ASP Sathish Gamage. (D.G.Sugathapala and Sumathipala Disyagahage)