---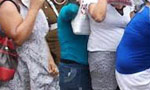 Panadura –Walana Anti Vice Squad raided a suspected brothel located on a palatial two-storey house in Thalawatugoda and arrested 13 women including three women from Thailand and the brothel manager.
Police said the suspects had been operating the brothel under the guise of an Aryurvedic massage clinic. The Thai women were between 30 and 35 years of age and were in Sri Lanka on tourist Visas. The nine Sri Lankan women are between 18 and 30 years of age and residents of Bandaragama, Gampaha, Anuradhapura, Ratnapura, and Veyangoda.
A senior police official said investigations were carried out on information provided by a private radio channel and the raid was conducted on a search warrant issued by the Kaduwela Magistrate's Court. He said a police decoy paid Rs.8,000 to hire a Thai woman and when they went into the room a police team raided the building,
Investigations revealed that the women charged prices from Rs.5000 to Rs.10,000 depending on the customer's choice. (H.M. Dharmapala and Kusal Chamath)
.