---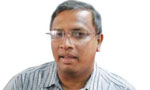 The visiting UN Special Rapporteur on Minority Issues Rita Izsak Ndiaye had stressed yesterday the recruitment of minority community members to security forces, TNA MP M.A. Sumanthiran said.
Ms. Ndiaye, who met the Leader of Opposition, TNA leader Rajavarothayam Sampanthan yesterday, had said that absence of minority members in the security forces was one of the major issues the minority group was facing, Sumanthiran said.
"She said that therefore minority members should be enlisted to the security forces on the basis of population," MP Sumanthiran said.
TNA MP M. A. Sumanthiran was speaking to journalists after the meeting.
According to Mr. Sumanthiran Mr. Sampanthan had told Ms. Ndiaye that a foundation to resolve minority issues should be laid through the new Constitution.
"Mr. Sampanthan had told the UN Rapporteur that minorities should feel that the new Constitution should be one, which they too could accept as one of their own unlike the 1972 and 1978 Constitutions, which only focused on the majority community," he added.
Ms. Ndiaye is in Sri Lanka on a ten day study tour with regard to minorities in Sri Lanka. (Yohan Perera)