---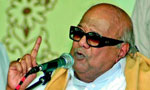 Accusing Tamil Nadu Chief Minister J. Jayalalithaa of "misleading" people on the issue of Katchatheevu, DMK chief M. Karunanidhi on Sunday has reminded her that any steps to retrieve the island ceded to Sri Lanka has to be taken by the Union Government and that the state governments have no role in the issue.
Mr. Karunanidhi has said the AIADMK chief is giving him opportunities to "bring out the truth" on several issues, the Deccan Chronicle reported.
He had said that the Chief Minister was misleading the people only with an eye on the elections.
"Ms. Jayalalithaa has said several times that it is the Union Government which has to take steps to retrieve Katchatheevu islands from Sri Lanka and that the Chief Minister has no role in it. She had also said that if the Chief Minister had any role, the islet would have been retrieved long back," Mr. Karunanidhi said.
He said the Chief Minister has said that he was responsible for Katchatheevu being given to Sri Lanka.
"Just before elections, she says she will retrieve Katchatheevu if she comes to back to power. This is just lie," the DMK chief said.
Addressing a public meeting on Friday, the Chief Minister had accused the DMK chief of being responsible for Katchatheevu being given to Sri Lanka.