---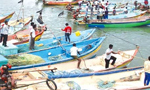 Tamil Nadu Government on Monday requested the Centre to ask the Sri Lankan government to release over 100 fishing boats, which are still in custody of the island nation.
Recalling the detention of 158 fishing boats by Sri Lanka in 2014, Chief Secretary P Rama Mohana Rao in a letter to Foreign Secretary S Jaishankar, said that Chief Minister Jayalalithaa had repeatedly urged the Prime Minister to take necessary steps for the release of the boats.
The Tamil Nadu Government had 'unanimously' passed a resolution in December 2014, seeking early release of the boats, Rao said, adding that Sri Lankan courts had finally ordered their release in February 2015.
Stating that two salvage teams were formed towards the release of the boats, he said, "the salvage operation was carried out in two phases by 355 fishermen with 54 salvage boats."
Sixty four boats were salvaged with minor and major repairs and brought to India in March and April 2015.
"But due to prolonged berthing, 16 were damaged beyond retrieval," he said.
Despite repeated appeals by Chief Minister Jayalalithaa, the Centre is yet to agree to bear the losses suffered by the Indian fishermen, he said.
As the fishermen association requested release of 105 boats still in Sri Lankan custody, he urged the Centre to suitably compensate them for their losses.
"The cost of each fishing boat is around Rs 25 lakh. I request you to impress upon the Government of Sri Lanka to secure the early release of 105 fishing boats, which are sustaining serious damages in Sri Lankan custody and return the boats in refurbished condition", he said.(PTI)