---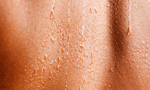 The Sri Lankan population will have to put up with the uncomfortable situation they have to undergo as a result of excessive sweating during the month of May as well, where winds are unlikely to become active till around that time, the Department of Meteorology said today.
A spokesman from the Department told Daily Mirror that the winds are not likely to get active till end of May.
"The uncomfortable situation is caused by lack of winds. The perspiration is dried up when the wind blows and that does not happen when the winds are inactive and that's why the people are feeling uncomfortable," he said.
However, the temperature which is high these days is also likely to go down by next month. Despite this the Department predicted an increase of temperature in most of the areas. Accordingly the temperature in Anurdhapura which was 36.4 yesterday was predicted to be 37C degrees by today while the Temperature in Colombo which was 32C degrees was likely to increase up to 34C. The situation is expected to be same in Ratnapura where the temperature was 34.9C was expected to rise up to 36, Galle from 32C to 35C and Jaffna from 35C to 36C degrees.
Thunder showers were predicted at several places over most provinces after 2.00 pm. Fairly heavy rainfall (above 50mm) are also likely at some places in the coming days. Few showers were expected to occur in the North-Western, South-Western and Southern coastal areas in the morning too.
There may be temporary localized strong winds during thunder showers. The general public is kindly requested to take adequate precautions to minimize damages caused by lightning activity. (Yohan Perera)