---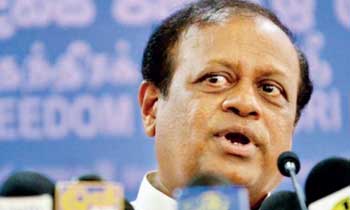 It would be very difficult for Foreign Minister Ravi Karunanayake to maintain his credibility in the diplomatic arena after his credibility was shattered internally during the investigations into the controversial Central Bank bond deal, Minister of Technology, Technical Education and Employment Susil Premajayantha said.
Although questions were directed at him and he had answered them at the Presidential Commission of Inquiry, over the deal were not sufficient to clear his name, circumstantial evidences appear to suggest some possible offense had been committed, he said.
Minister Premajayantha said that peoples' confidence in the Foreign Minister had been shattered due to the alleged controversial transaction that had been effected when he was the Minister of Finance.
"Under these circumstances it would be a serious matter to have confidence in his duties of international matters as well," he said. (Dayaseeli Liyanage)