---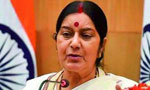 CHENNAI: External Affairs Minister Sushma Swaraj on Wednesday told a delegation of fishermen associations from Tamil Nadu that the Union government would try to find a solution to their problems, including harassment at the hands of Sri Lankan Navy.
The delegation which was led by DMK MP Tiruchy Siva also asked Ms Swaraj to take immediate steps to ensure the release of 29 fishermen who are languishing in Sri Lankan jails and 103 boats seized by the Sri Lankan Navy.
"We told the Minister that the fishermen should be released immediately. She assured us that she will talk to concerned in Sri Lanka and try to put an end to the problem," Mr. Siva told reporters after the meeting.
Ms. Swaraj also promised the delegation that she would convene a meeting of all stakeholders very soon to discuss the problems faced by Indian fishermen hailing from TN.
Members would attend the meeting from fishermen associations, Coast Guard and ministry of external affairs, the minister told the delegation.
"Ms. Swaraj said she would try and hold the meeting in a month's time. The fishermen association representatives were also happy with the response of the minister," Mr. Siva said. (Deccan Chronicle)