---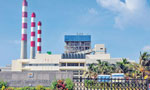 A Special Administrative Unit is to be established by the Power and Renewable Energy Ministry to look into the operations of the Lakvijaya Coal Power Plant in Norochcholai, Deputy Minister of Power and Renewable Energy Ajith P. Perera said yesterday.
Currently, the operations of the Lakvijaya Coal Power Plant are handled and coordinated by the Ceylon Electricity Board (CEB) officials in Colombo.
"The decision has been taken with the purpose of regulating the procedures of the Coal Power Plant which is currently producing 600 MW of power – or the equivalent of 40% of the national grid, following its frequent breakdowns due to lack of maintenance and technical faults," the minister said.
According to the minister, CEB officials will be appointed to the Special Administrative Unit and necessary facilities for the officials including accommodation, education for their children and transport will be provided by the ministry.
Meanwhile, the minister said Cabinet approval had been obtained to implement a national programme which will be handled by a Presidential Task Force, to manage energy use efficiently and avoid the construction of large scale power plants within the next five years.
Through the programme which will also be focused on power usage of domestic, commercial, industrial and government sector consumers, the ministry expects that an average of 1000 GW power can be saved in the next five years. (Piyumi Fonseka)