---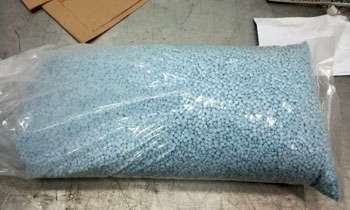 An attempt to smuggle 8 kilos of Diazepam tablets, which is popularly abused as a substitute for narcotics was thwarted when Customs officials at the Bandaranaike International Airport (BIA) Air Cargo Unit detected a suspicious parcel today.
Customs Spokesman and Director Sunil Jayaratne told Daily Mirror, the parcel was delivered by an employee of a leading international courier service and the detection was made when the
officials decided to carry a random check on the parcel the contents of which was declared as pharmaceuticals.
The parcel contained more than 100,000 Diazepam tablets weighing eight kilos addressed to a recipient in Britain.
According to medical experts Diazepam, also marketed as Valium, belongs to the benzodiazepine family that typically produces a calming effect. It is commonly used to treat a range of conditions including anxiety, alcohol withdrawal syndrome, benzodiazepine withdrawal syndrome, muscle spasms, seizures, sleeplessness and restless legs syndrome.
It is only dispensed on a doctor's prescription and is known to be a drug that is usually abused as a substitute by addicts of psychedelic narcotic drugs.
The National Dangerous Drugs Control Board said Diazepam was also known as a widely used medicinal drug used by heroin addicts as a substitute.
The 39-year-old courier company employee who is a resident of Wellawatte and the drugs were handed over to the Police Narcotic Bureau for further investigations.
The detection was made by Customs Air Cargo Unit Assistant Superintendent Sumudu Jayawardena while the investigations are being carried out by Superintendents Lal Silva, Shantha Priya and ASC Thisara Weerasinghe, K.K.M. Saleem and H.A.P.N. Gunawardena. (Kurulu Koojana Kariyakarawana)