---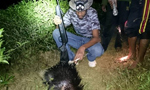 The six hunters, including the main suspect who were arrested in Panwila, Kandy in connection with hunting wild animals in the Knuckles Conservation Forest, were remanded till July 7 by the Theldeniya Magistrate today.
They were produced before the Theldeniya Acting Magistrate Prabodika Niyagama.
Following police investigations, two men had been arrested in St. John's Estate, Madolkele. One had escaped.
The main suspect and three others had surrendered to the Panwila Police with their lawyer.
Pictures of hunters with meat of various wild animals went viral on social media last week creating a massive uproar among the public.
The hunters were accused of killing animals including deer and porcupines considered endangered animals in the Wildlife Conservation Act. (Nadeeka Daya Bandara)