---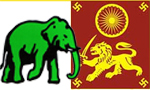 The Sinhala Ravaya today lodged a complaint at the Police Headquarters against the United National Party (UNP) in connection with the rally organized by the party at the Colombo Lipton Circus on March 15.
Sinhala Ravaya President Ven. Akmeemana Dayarathana Thero lodging the complaint with IGP N. K Illangakoon stated that several roads were blocked and commuters including patients were inconvenienced by the rally.
"The Police filed legal action against us when we were conducting a protest march from Kalutara Town to Kalutara Bo tree," the Thero said.
The Thera said even the public found it difficult to reach to the Colombo National Hospital due to the UNP rally.
"The police didn't take action against the UNP which caused effected the public and patients severly. The law should be applied equally," the Thera said. (DS)
Video by Richan